Knowing the Risks - New Deer Collision UK Hotspot Maps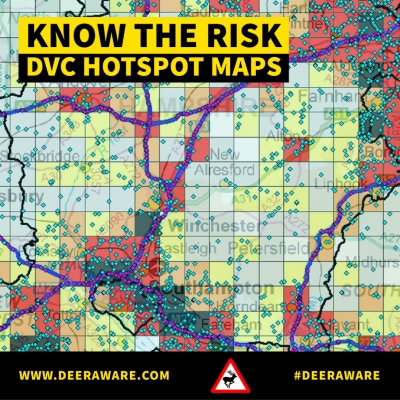 12/11/21
Deer Vehicle Collisions – Hotspot Maps for England and Wales
Deer collisions are a high risk for drivers. It is estimated there could be up to 74,000 deer related traffic accidents in the UK each year. As a result, there are several hundred human injuries and a number of human fatalities each year.
Drivers have told DeerAware that knowing they are in a high-risk area has helped them modify their driving and has made it possible for them to avoid a deer collision. Therefore, the more we can inform drivers about high-risk areas the better we can help them to avoid a collision.
Since 2003 the DeerAware campaign has been researching and collating deer vehicle collision data across England and Wales. As well as collecting incident reports, DeerAware also receives data from several organisations to help build a clearer picture of high-risk areas, for collisions. This data has been used to generate maps to help identify hotspot areas for collisions.
DeerAware's new hotspot map booklet brings together all 46 maps to show the relative density of DVCs within either single or small groups of adjacent counties and unitary authorities, reported to the project (after exclusion of any apparent duplicates) for the 10-year period 2010 to 2019.
Although records mapped are combined for 10 years it is currently estimated the data shown in these maps approximate the true number of DVC that occur within a single year.
Help with Future Hotspot Mapping
The public can help DeerAware to produce more accurate maps by sending in a hotspot incident report on the DeerAware website.

You can also provide a similar report using the BDS Deer App. The app has a deer sighting feature that allows users to report sightings related to collisions, as well as other sightings of deer. www.bds.org.uk/information-advice/resources/bds-deer-app/
These reports will help us create even more accurate hotspot maps in the future.
Click the link below to download the PDF hotspot map booklet:
https://www.deeraware.com/uploads/publications/deer-vehicle-collisions-ndash-ho-31.pdf